John Gilbert is no stranger to Gopher hockey. In his second book connected with the Gopher program Mr. Gilbert writes about a Gopher and Olympic coach known throughout the world, Herb Brooks.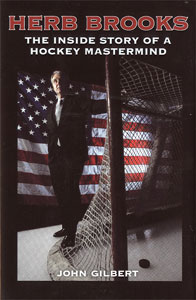 The following is taken from the back cover of Herb Brooks: The Inside Story of a Hockey Mastermind.
As the hockey beat writer at the Minneapolis Tribune, John Gilbert covered Herb Brooks' University of Minnesota national championship teams and the "Miracle on Ice" 1980 Olympic squad. In the process, he became Herb Brooks' confidant and sometimes his critic.
Now, for the first time, Gilbert offers impossibly colorful quotes issued by Brooks through the years, recently gathered anecdotes and reflections from former players and colleagues, and his own first person perspective to illuminate the people, experiences and even the specific game situations that shaped Brooks' philosophies and methods.
The result is a thoroughly unique and at times rollicking portrait of the man some have called the greatest hockey coach ever.
John Gilbert also wrote Return to Gold Country in 2002. Return to Gold Country recounts the story of the 2002 National Championship Gopher team.